Isaac Approaches The Island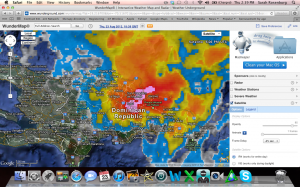 The rain has begun and the country of the Dominican Republic prepares for the arrival of Hurricane Isaac tomorrow. School was let out early today and is canceled for tomorrow. Even though it is expected to hit the south boarder (Santo Domingo), news reports flooding in the northern coast (Cabarette/Sosoa).
This morning it began to rain at about 5am. The rain was not too bad but the lightening and thunder were very close. In fact, the electrical lines outside of my window were struck by lightening cutting an electrical wire. The wire burst into flames on both ends and after about an hour, the piece still connected to the box eventually reached the box and exploded the box.
All in all, we are preparing for lots of rain. Similar to Florida, the people here are used to hurricanes. We were forced to cancel the meeting with the parents in Cuesta Arena about the school because of rain. We are staying close to home indoors as much as possible. Thank you to everyone who continues to support and pray for this mission and the people of this country.