First Day of Class- September 3, 2012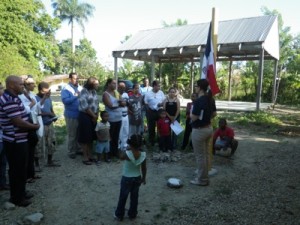 This morning we met at the church at 7am and drove out to Cuesta Arena. More than ten members of the church gathered to help celebrate this momentous day. Many of the church members had not been out to Cuesta Arena since the doors and windows, paint, and furnishings had been completed. They were amazed at what they saw upon arrival.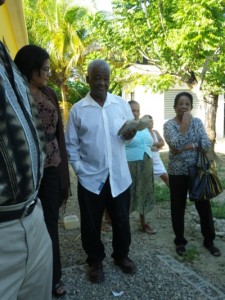 In front of the school building, the church members, children, moms and dads gathered for worship together. We began the morning with the raising of the flag and the singing of the national anthem. After we read Psalm 103:1-5 "Praise the Lord, my soul; all my inmost being, praise his holy name. Praise the Lord, my soul, and forget not all his benefits— who forgives all your sins and heals all your diseases, who redeems your life from the pit and crowns you with love and compassion, who satisfies your desires with good things so that your youth is renewed like the eagle's." Sairy talked about God redeeming the lives of the people of Cuesta Arena and lifting them up out of the pit to crown them with love and compassion. Sairy talked about the sign. A sign that was created years ago and signified a dream, a dream that is now a reality. Herman asked to sing a hymn and the people joined him in singing. Estella ended the service with prayer.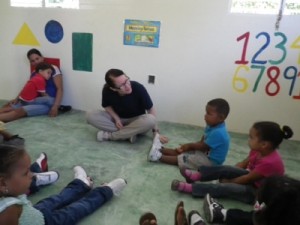 After the service, the children were brought inside and parents tried their hardest to say good-bye. Like typical Dominican fashion, many of the children arrived after the 8am start time. By 9am we had 20 children gathered in the room, most crying for their parents. The few that had been up to the site to play with missionaries were excited to be there and had no problems saying goodbye to their parents. The other 15 screamed and cried. We learned quickly that we had to shut the doors to keep them in the classroom, also closing off our airflow. Slowly as the day progressed, the children began to smile as they played with play dough, blocks, colored, and read books. One by one they stopped crying.
A particular set of brothers, ages 4 and 3, had a difficult time when their mom left. The older brother quickly stepped up, and though he was sad and wanted to cry, he also wanted to be there for his younger brother. As his younger brother cried, he would tell him it was going to be ok and fought off tears himself. It was amazing to see the love and compassion he had for his brother. He would cry, then notice his brother was crying and stop crying to console him.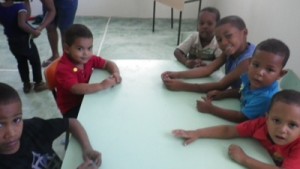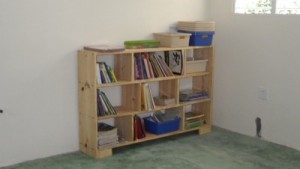 Through out the day, a mom and uncle stayed to help, along with some of the older children from the community (Maria de Carmen,Juancito, and Cristian). One mom brought juice to share. Another uncle brought some shelves he had made from material we had bought last week. At the end of the day, Herman was quick to call Kendy (the teacher) and I over to his house where he had a table set up with a feast of food for both of us. It was amazing to see the community take ownership of the school and pride and "forget not his benefits."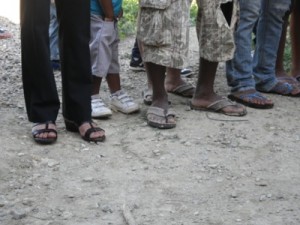 It was an amazing day of dreams becoming a reality. Sairy said many of the church members were in tears to see the fruit of their years of work and prayers. I was brought to tears as I remembered the first day in January 2008 when I arrived in the community. God has truly worked hard in this community and revealed Himself over the years. We have hit many road blocks but God has prevailed in every opportunity. I was also reminded of a shirt I once saw a group of missionaries returning from Haiti wearing. It quoted Isaiah 52:7 "How beautiful on the mountains are the feet of those who bring good news who proclaim peace, who bring good tidings, who proclaim salvation who say to Zion,  "Your God reigns!" I always thought that was a funny verse, especially to put on the back of a mission trip shirt. How beautiful are the feet of someone who has been serving God in the trenches? Today as I looked around, I was drawn to the feet of those surrounding the school. Their feet were truly beautiful not in terms of worldly beauty but in terms of God's immense glory. As we serve God, as we seek God, as we go were God calls us to go, our feet because symbols of our work. Symbols of various forms and shapes. Some small, some big, some with tennis shoes, some with sandals, some delicate, some callused. Etched my our work and service. How beautiful they are.
Tomorrow we begin again. Each day an opportunity to share God's love not just with the children in the school but with their families and the community. A community that was once a pit, will once again forget not all His benefits and be crowned with love and compassion as they "Praise the Lord, my soul; all my inmost being, praise his holy name."