Due to a series of unfortunate events, my laptop charger died, limiting my access to being online. Unfortunately, this meant the team could not blog their last few nights here nor could I download their pictures to post. I have asked them to email me their blogs so I can post them for everyone to read. I will post them as soon as I get them.
As you can see my charger is now fixed. Luis used his computer contacts and found a guy that would fix my dead charger. My only other in country option was to buy a new charger for $100 and have it imported here in two weeks. Since I could have ordered one in the states cheaper and gotten it here faster, I did not even count that as an option. I desperately needed my laptop though so I chose the Dominican option of repairing the one I had and getting it taped and glued back together, still costing $30.
Since the last blog was from Sunday, I will summarize the past week (hopefully their blogs will be more detailed). Monday Nancy and Rev. Rojas headed with Sairy to the radio station while the team headed to Cuesta Arena thinking we were meeting the water company to install the water system. Just before we left, we found out that the company was not headed out there. Let me back up a little bit to explain at least to those who know anything about water systems.
This summer we received notice that the grant money from the Rotary Club was here in Santiago. Once we finally received the money in November, the cistern was completed. When I arrived in February, Sairy told me the water company said we needed to buy a new generator before they would do anything with the system. We bought the generator and took it out to Cuesta Arena. The company decided we did not need to use the O-zonator (which was causing us to loose pressure costing us lots of money is gas to run the generator). This left us with two filters which they installed. Al took a look at the system for the first time in 2 years (since before we applied for the grant) and noticed that the tinaco on the roof (which we budgeted to buy 3 more) was not sealed. Meaning we were filtering clean water then placing it in a dirty tinaco and then distributing it. We talked with the water company and they told us they have lots of these systems and they are fine. We explained to Sairy it is the possibility of contamination that we were worried with. We called the filtration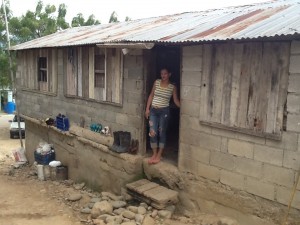 company and they told us of another tinaco that is sealed. They took us to the dialysis unit at the hospital and showed us a system that used this tinaco which gave them water pure enough to us for dialysis. From this system we decided it was important to add an ultraviolet light since we were only using 2 filters. The ultraviolet light is supposed to be a better option than the ozonator since the ozonator takes out the magnesium which is good.
On Monday we found out that our new tinaco could not be in direct sunlight so before they could do anything we had to build a top to block the sun. The day was not a complete waste. The team got to walk Cuesta Arena and see various houses in the community and get a better idea of the changes the school is making in the community. Monday afternoon, the team finished up at the church installing lights and painting. Al, Bob, and Freddy took down a light pole that was dangerously leaning. Then Gail, Rev. Rojas, and I cut it up to move it out of the way.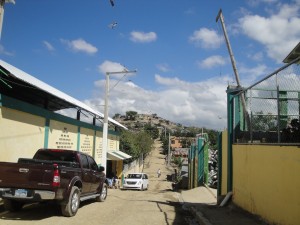 Tuesday the team visited Pastor Pablo in Cien Fuegos. The last time I was there was two years ago. What a difference!!! They had gotten a Rotary Club donation to build a kitchen for the school. They also developed a relationship with a university in Lakeland, Florida (of all places) and received a $50,000 donation. They have bought almost 4 times as much property as they had 2 years ago. Went from 80 plus children in the school to over 300. They now have a recycling center to raise money for the school and are in the process of building a tech school to teach things like sewing, electricity, cooking, etc. Tuesday afternoon we headed to Los Cocos. When we arrived the property was filled with children. Even the little church building had been expanded because of the growth in Los Cocos. After the children's bible school, we worshiped all together. Rev. Roajs preached and 11 people decided to dedicate or rededicate their lives to Christ. It was a great end to a work week!
Wednesday the team headed to the beach for a day of relaxation and fellowship with the family. They then packed up their luggage. Thursday morning the team from Ohio headed to the airport. Thursday afternoon Rev. Rojas and Merile went to see the school in Cuesta Arena. Merile then decided to make a much needed donation to the school. We headed to La Sierena and she bought the school a battery powered CD player! Kendys will be soooo excited when she receives it this week.
This morning we dropped Merile off at the airport and then Rev. Rojas, Sairy, and I headed to Santo Domingo to see Rojas' family. We had a great day sharing and laughing with his family. All in all, the team had a great last few days. Even though the water system is still not up and running, we continue to work on Dominican time to make sure that we are distributing clean water to the community.