February 13, 2013- Jessica Brown
Howdy y'all, I'm from Mesopotamia United Methodist Church and I'm here to blog my second day in Santiago to all of you (: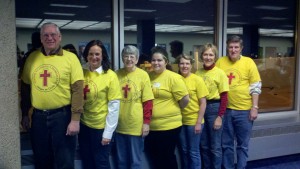 Even though I didn't sleep much, waking up in the morning was peaceful. I enjoy the sounds of what goes on outside. First thing was pray time, then breakfast at the Pastor's house, the food was very good. Then we headed over to the church to see everyone and decide what should be done for our first work day on our mission. This is my first time coming to Santiago in the Dominican Republic, first time being out of the United States. Even though my Spanish is still rough, everyone is very kind here. They welcomed me, had conversations with me to the best of my knowledge in Spanish, spoke slow so my translator could help me understand them better. Everyone was just so helpful, and I felt like I was at home. After we got back from the store, we painted for four hours, some other people and I painted the fence outside of the church. Others painted the inside, but in those four hours we all got a lot of work down. Half of the fence around the church was painted front to back as well as the spots all over our shirts, arms, and faces. We called each other the Dalmatians, Gale being Spot, Sue is Patches and I'm Checkers! The towns people were very nice as well, there was even one man who started talking to me. He gently took my brush and started painting the fence, then he looked at me and said in Spanish " There! Look how Beautiful! Beautiful!" We all got a good laugh out of that, then after we were done trying to wash off all of the black paint we headed back to the pastor's house for dinner, which was of course a wonderful meal. I called my parents after saying goodbye to them on Monday afternoon. It was good to hear their voices after two days, and my mom was no longer worried as much as she was. Now I'm sitting here, writing all of this to y'all, hoping your day was just as good as mine. While everyone else is discusses plans for tomorrow as well as some of the days later in the week and entertaining stories. Well that is my day, here soon I'm going to snuggle up with my stuff penguin Pengaboo and head to dreamland, hope y'all have a wonderful night, and God Bless to all of you <3
Click on the Pictures.