August 5, 2012- Jordan Markwood
We arrived at the airport in Santiago on Wednesday evening, August 1 and were happily greeted by Luis, Aneury and Daneury who then took us to pastora's house.  We graciously accepted the Dominican food that was waiting for us and then spent some time catching up with the family until Sairy came home.  Once everyone was ready, we headed to Lilly's house where we would be staying for the next week or so.  Lilly and her daughter Lillybeth were excited to have us and warmly welcomed us into their home, letting us know that it was our home as well.  After getting to know them a little bit, it was time to get some rest for our first full day in the Dominican Republic.
On Thursday, Mollie and I spent most of the day learning music that we would be performing with the praise and worship team at the church.  We found that different members of the family would stop and practice with us throughout the day and would sing a phrase or two of a song while going about their day.  It was great to help us practice the songs and see how much they really love them.  In the afternoon, we were given keys to the newly installed doors at the school in Cuesta Arena and headed there to check on the progress there.  When we arrived in Cuesta Arena, I almost didn't recognize the school.  The exterior had been primed and was a bright white and the white doors and windows had been installed as well.  It looked terrific and I was excited to see that so much progress had happened since the end of June when we were cementing the floors.  Sairy opened the doors and along with a few of the kids from Cuesta Arena, we went around the school to check all of the windows and doors.  Everyone was really happy, especially the kids when they made some new toys from the construction material packaging.  We took a few pictures, picked up some local produce from Herman, dropped off toys and supplies we had brought for the children and were on our way to the church for practice.  Practice started at the Dominican 6 p.m. which meant around 6:45.  We took some time for everyone to introduce themselves and say why they were here to sing or play for the worship team.  I was truly moved by their dedication and excitement to participate in this praise and worship group solely from their desire to glorify God with the gifts they have been given.  We worked on two songs "Hosanna" and "Derrama de tu fuego" until about 9:45 p.m. and then it was time to call it a night and go home to grab some dinner.  It's always great to come home to Mommi's cooking, no matter what time of day it is!  We talked about the day while we enjoyed the wonderful meal and then returned to Lilly's house to get some much needed sleep.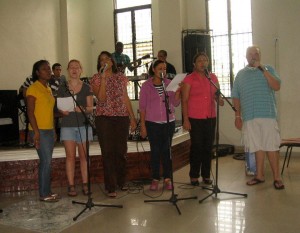 Friday and Saturday had us running some errands, meeting with members of the church and eating more of Mommi's delicious meals.  Mollie, Daneury, and I tagged along with Sairy while she assisted a young lady with wedding preparations.  Afterward, we visited different stores in search of chairs for the school in Cuesta Arena.  We weren't able to find anything we loved but have a lead on some other chairs that we think will suit the needs of the school well.  It soon became time to head back to church for rehearsal with the praise and worship team but we were delayed a bit by an onslaught of rain from tropical storm Ernesto.   Once the rain had passed, we met up with the team at the church and began to work on our music.  We added a new song "Recibe toda la gloria" and practiced all of the music that would be sung in church the next morning.  The group worked extremely hard and long…four hours to be exact.  We finally finished the rehearsal, planned rehearsal dates for the coming week and then prayed together before leaving.  Saturday evening brought a new food experience for Mollie and me, corn pizza!  We sat and talked with Sairy for quite a while after dinner about the music and many other topics.  It was definitely a blessing for all of us to just sit and reflect on a multitude of things!  Alas, Sunday was approaching quickly and it was time to get some rest and prepare for the first performance only in Spanish.
Sunday morning started with getting everyone to church.  It's always an adventure to take a bigger group of people somewhere in the D.R.  Once we made it to church, we were cheerfully greeted by those that had made it there before us, several of which we had met in our previous trips to Santiago.  Sunday school brought a time of learning and discussion about the devil in scripture (the first of four classes the church is going to have).  Afterward, we had an amazing worship experience including the music, dedication of a new child in the church, a moving sermon on Moses and the overwhelming spirit that shown through the members of the congregation.  I am excited for the next 2 weeks as I know that God will continue to work through and in us as we serve Him in Santiago, Cuesta Arena, Los Cocos, and wherever else He might lead.  We covet your prayers and continued support as we serve in faith!