August 27, 2012- What is Your Decision?
Sunday, I got the hear Sairy preach 3 times. We began the morning in Santiago with worship. We sang one of my favorite songs "Alaba a Dios" (see below for words and translation. The sermon and the theme of worship was on deciding to praise God. We read Habakkuk 3:17-19 "Though the fig tree does not bud and there are no grapes on the vines though the olive crop fails and the fields produce no food, though there are no sheep in the pen and no cattle in the stalls, yet I will rejoice in the Lord, I will be joyful in God my Savior. The Sovereign Lord is my strength; he makes my feet like the feet of a deer, he enables me to tread on the heights." Sairy talked about even without rice, beans, sheep, and cows, the prophet Habakkuk says to praise God. It is a decision we must make daily.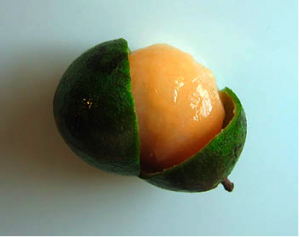 When we were in Sabaneta de Yasica, she added even when there are no avocados or limoncillos (her and my favorite fruits) we must praise God. I told her later that I would like to think I would but I wasn't so sure if there wasn't limoncillos. Limoncillos are a delicious delicacy of August here in the DR. There is a not a fruit in the US that it can be compared to. It is just something you have to try and I believe their season is only in August (at least that is what they told me in June, maybe only to make sure I returned in August).
We spent most of the day in Sabaneta, it is Sairy's hometown and where Mommi, Poppi, and Aneury and his family live. To get there from Santiago you must cross over the mountains, a drive we have made numerous times. It is a beautiful drive during the day as you raise to the heights of the country and over see Santiago and pastures below. On the way home, it was dark, and though my new car make the treck with no problems, the lights were a little dim for this adventure. I became lost in my thoughts as Freddy drove us safely over the mountains in the darkness through the hairpin turns. I began to think about the passage in Habakkuk and what God desires from us.
God calls us to surrender. In the US, I desire to have control, to know the time and place, to plan. But here in the DR, for whatever reason, I trust. I trust people to drive me places. I trust people to make decisions, I trust people to protect me. For a person that needs to be in control, I trust more than I control. God calls us to trust in Him. It sounds simple but is one of the hardest things, especially for US citizens, who have access to unlimited knowledge and resources. What if every day, we chose to trust. I am going to assume, that everyone reading this blog, has not ever had a day where they didn't have something to eat. I could be wrong but I, personally, have never had a moment in my life that I was hungry and had no access to food. Maybe I didn't like to food being served but I at least had access to it. It is hard for me to image that type of hunger and  to imagine praising God in those moments. But God calls us to trust. Unfortunately, our wealth in the US allows us to control not only what we eat but how much we eat. Our wealth allows us to control what we buy and what we do with what we buy.
This year, I am living off of donations, money people have donated because they believe in my work and what I am doing. It is a huge honor to be here with the support of friends and family. How different it is to live when the money is given to you, than when you work for it. If you work for it, you deserve it. You worked hard for it. When I was a server, I knew how many tables I had to serve to get enough tips to pay for something. Here, my mindset is that it is not my money. It is money people have donated so I must make decisions on what to spend the money on based on those donations. I feel like I do not personally "own" anything. I have things that are open for people to use and borrow. I feel like God desires us to live in community, to trust in Him and to never "own" anything.
It goes back to trust. People in the US do not trust. They do not trust God, or each other. We need our "own" things so that we can control  what we do with "our" things. When you have nothing, it is easier to trust. Where in the Bible does it talk about praising God in the midst of wealth? Where does it talk about God's presence in the new cars, computers, cell phones, and latest things to make life easier? What if everyone, regarded their income as donations? How different would they spend their salaries? Would they buy nice things that they kept their children from playing on or around? Or would they have nice china that they didn't even use to serve their neighbors? Would they have a house with an extra bedroom when there are people that have no place to sleep? The question is, do you trust. Are you spending the gift of your salary the way God would desire? Are you spending it as if you have control or God has control? God is with you. He is working, simply just wait to see what He will do when you trust. Raise your hands and begin to sing…..praise to God.
"Alaba a Dios" (Praise God) -only part of the song
La gente necesita entender (People need to understand)
Lo que Dios esta hablando (what God is speaking)
Cuando el queda en silencio (when He is silent)
Es por que esta trabajando (It is because He is working)
Basta solamente esperar (simply just wait)
Lo que Dios ira hacer (for what God is going to do)
Cuando el extiende sus manos (when you extend your hands)
Es hora de vencer. (it is the time to overcome)
Oh alaba (oh praise Him)
Simplemente alaba (simply praise Him)
Estas llorando alaba (if your are crying, praise Him)
En la prueba alaba (in the test, praise Him)
Estas sufriendo alaba (if your suffering, praise Him)
No importa alaba (its not important, just praise Him)
Tu alabanza el escuchara. (He hears your praises)
Dios va al frente abriendo camino (God is leading the way)
Quebrando cadenas sacando espinas (breaking chains, taking out thorns)
Manda a sus ángeles contigo a luchar (He sends His angels to fight for you)
El abre puertas nadie puede cerrar (He opens doors none can close)
El trabaja para los que confían (He works for those that trust Him)
Camina contigo de noche y de día (walking with you night and day)
Levanta tus manos tu victoria llego (raise your hands, your victory is here)
Comienza a cantar y. (begin to sing and…)
Coro:
Alaba a Dios (praise God)
Alaba a Dios
Alaba a Dios
Alaba a Dios
More lyrics: http://www.lyricsmode.com/lyrics/d/danny_berrios/#share